1.35 Acres West Shaw- SOLD!!!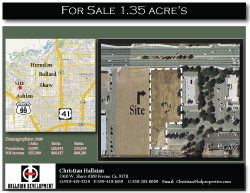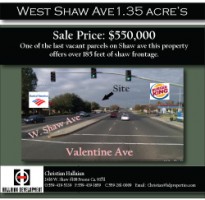 Location:
The vacant parcel is located on the North side of Shaw Avenue, in Fresno, California. Ideally situated between Freeway 41, and Freeway 99.  The Fig Garden Shopping Center, West Shaw office complexes, and California State University, Fresno, are within a short drive.
Near by Retailers:
Food for Less, Bank of America, McDonald's, Blockbuster, Home Depot, Pets Mart, Fed Ex, iHop, among several others. Across the street from Toys R Us.
Key Features
Across the street from Toys R Us
Neighboring anchor Food 4 less
Home Depot
Pets Mart
For further information please contact Christian J. Hallaian.
Office: 559.439.5339
Cell: 559.281.0009
Fax: 559.439.1659
Additional Resources
Last Updated Wednesday, May 25, 2016 - 08:53 AM.