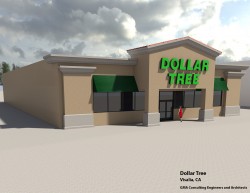 Dollar Tree Visalia Marketplace
Retail Building
This project is located on the Southwest corner of Demaree and Noble Ave in Visalia Ca. Submittal Set included Shell Building plans and metal building plans for bid. Permit set will be given out upon request. The project is scheduled to be completed summer of 2016.
For further information please contact Christian J. Hallaian.
Office: 559.439.5339
Cell: 559.281.0009
Fax: 559.439.1659
Additional Resources
Last Updated Thursday, June 01, 2023 - 11:11 AM.